About Sergio Cossa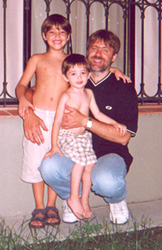 Areas Of Expertise:

- ASP.NET
- C#
- Visual Fox Pro
- FoxPro DOS
- Delphi
- SQL Server 2000
- InterBase
- Macromedia Products: Flash - Dreamweaver
- Swish 2.0
- Corel Draw!
- Photoshop

Resume:
I have 18 years of experience developing diverse solutions to solve problems in both single and multi-user environments.

I have great abilities in the programming and resolution of problems. This experience, acquired in independent form, is due to the creation of computer science applications for Windows and DOS, such as: management and database applications, Internet Sites, Image processing, etc.

Important theoretical-practical knowledge in: Programming: Structured, Functional, O.O.P., Structures of Data. Theory of Database, Programming languages. As well, I have knowledge for the graphical design and the creation of Web sites, static or dynamic using ASP.NET.

As an important development, I can emphasize the complete implementation, in collaboration with another programmer, of a A.F.I.S. System. The system was developed with an multi-tier architecture and uses several threads to take care of multiple consultations on a SQL database.

I have a strong capacity of analysis, design, programming and coordination. Flexibility and adaptability. Abilities to relate and to work in team. Good knowledge of the English reading.




---
Rent A Coder Top Coder Competition Raw Score Calculation:
Sergio Cossa's
Top Coder Competition Raw Score Calculation:

Raw Score: 4,340.00
Ranking: # 560 of 54,172



Experience
(Minimum of 3 projects on the site)
Excellent customer satisfaction
(Average rating at least 9)
Every job completed
(No rating below 4)

Average Job Size

Average Coder Rating

Number of Completed Jobs

Penalty for Missed Status Reports Warnings *

$39.45

x

10

x

11

-

(0 warnings x 1000 penalty) = 0

Raw Score Total: 4,340

* Penalty rule enacted on 10/8/2001 and applies only to warnings sent after that date.
Note: all top coder competition stats are only updated once a day between midnight and 1:00 EDT.
Rent A Coder Work History
All ratings and comments are the opinion of the poster and do not reflect the official view of Rent A Coder.
Rated For
Rated By
Rating
Bid Amount
Rated On
Logo Design For Small Media Company
BoLM
10
(Excellent)
$40.00
July 8, 2003 5:10:13 PM EDT
Quality professional work from a professional. Sergio Cossa delivered everything we asked for and in a very timely manner.
Bonus for Sergio Cossa on 6/10/2003 2:39:30 PM
Radiohogan
None Given
$120.00
June 10, 2003 2:41:23 PM EDT
Website Banner Design(for Sergio Cossa)
Radiohogan
10
(Excellent)
$22.00
May 31, 2003 6:43:15 PM EDT
Sergio is a fine designer - world class. He is fast and I hope to have the pleasure of working with this caballero again. Hasta luego.
Bonus for Sergio Cossa on 5/29/2003 6:30:28 PM
Radiohogan
None Given
$30.00
May 29, 2003 6:33:40 PM EDT
Percevia Beta Testing 4
goofy166
10
(Excellent)
$90.00
May 7, 2003 3:58:21 PM EDT
Really hard worker, put in a lot of extra hours to make this right, would work with him again.
Website Banner
Alan Jones
10
(Excellent)
$20.00
April 24, 2003 3:19:11 PM EDT
Excellent work and a very quick turnaround on the project. He made my Favorite Coders List!!
Site Upgrade
dale99
None Given
$75.00
January 16, 2003 12:22:13 PM EDT
WebSite FaceList/MakeOver
DNN
10
(Excellent)
$19.00
October 30, 2002 4:54:36 PM EDT
Great!
Bonus for Sergio Cossa on 10/25/2002 2:08:43 AM
hostage77
None Given
$5.00
October 25, 2002 2:10:38 AM EDT
Flash Button Fix
hostage77
10
(Excellent)
$8.00
October 25, 2002 2:08:00 AM EDT
Excellent and fast. I will use this coder again! He had the coding finished and sent before I could email him twice. The coding was great and instructions were even included on how to use it.

Big Thanks

Deepress.com
Beta Testers Wanted For Windows Application(for Sergio Cossa)
LPE
None Given
$5.00
October 8, 2002 1:11:33 PM EDT
------
Average:
10.00




Rent A Coder upholds the rigorous business practices required to be both a BBB member and Square Trade vendor.
All customer issues addressed within 2 days
Openly disclosed pricing and return policies
Participation in mediation at buyer request
Superior selling track record
This site is verified through its parent company, Exhedra Solutions, Inc.