About BeNZOiT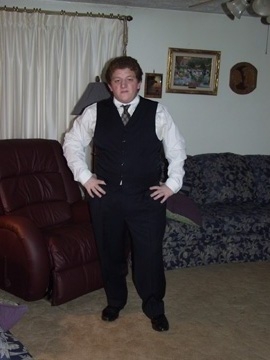 Areas Of Expertise:
I started programming in basic environment with GW-basic when I was around 8 year old. I wrote my first fake dos prompt program when I was 10 or 11. I taught my self Visual Basic over the years as well as c++.

As per formal
training.

Two years of direct education in c++ and one year of what can best be described as an apprenticeship

I have had 2 years formal training in Visual basic

I have had one year of training in Fortran and Pascal

Resume:
I am a dual major, working for a BS in Computer Science and a BA in Mathematics.

I am enrolled at Lock Haven University of Pennsylvania


---
Top Coder Competition Raw Score


Average Job Size

Average Coder Rating

Number of Completed Jobs

Penalty for Missed Status Reports Warnings *

$15.00

x

9.85

x

8

-

(0 warnings x 1000 penalty) = 0

Raw Score Total: 1,182

* Penalty rule enacted on 10/8/2001 and applies only to warnings sent after that date.
Note: all top coder competition stats are only updated once a day between midnight and 1:00 EDT.
Rent A Coder Work History
All ratings and comments are the opinion of the poster and do not reflect the official view of Rent A Coder.
Rated For
Rated By
Rating
Bid Amount
Rated On
Drink machine simulator
Lorlooks
10
(Excellent)
$20.00
December 8, 2001 8:08:39 PM EDT
I was very happy with the program, works great.
a class called date
Lorlooks
10
(Excellent)
$15.00
December 8, 2001 7:37:04 PM EDT
He did a really great job and took his time making sure I liked his work. I was very impressed and would recommend him to others.

Lori
Borland 5.02 C++ Project
Bemo5
10
(Excellent)
$5.00
December 4, 2001 9:36:51 PM EDT
Great guy to work with, really came through when I had a tight deadline. I highly recommend him to anyone that needs a program written.
arrays
meetcha
10
(Excellent)
$15.00
December 4, 2001 1:08:18 AM EDT
He is excellent.

3rd time using him!!!

Always VERY helpful.
c++ switch program
meetcha
10
(Excellent)
$10.00
November 18, 2001 10:33:04 PM EDT
EZ C++ Intro college program needed
meetcha
10
(Excellent)
$10.00
November 6, 2001 8:51:28 PM EDT
Very helpful
Communicated well together!
Superb!!!!!!!!!!
random number generator
nothing
None Given
$20.00
October 30, 2001 11:56:58 AM EDT
c++ Project
197
9
(Superb)
$25.00
October 26, 2001 2:03:52 AM EDT
Well done, thanks.
------
Average:
9.85




Rent A Coder upholds the rigorous business practices required to be both a BBB member and Square Trade vendor.
All customer issues addressed within 2 days
Openly disclosed pricing and return policies
Participation in mediation at buyer request
Superior selling track record
This site is verified through its parent company, Exhedra Solutions, Inc.